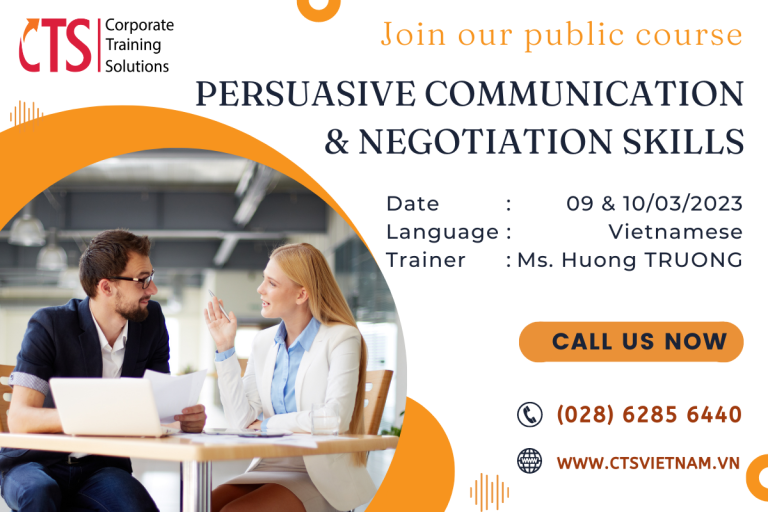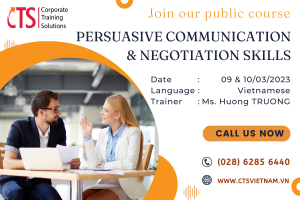 This course combines negotiation, persuasion, influence and communication. These skills are interrelated and their cumulative effect results in a powerful and memorable learning experience.
Designed for:
Managers, supervisors and employees at any levels who want to improve their persuasive communication & negotiation skills to apply in workplace situations.
Learning Objectives:
Understand the elements and skills for persuasive communication
Identify and develop different personal communication styles
The knowledge and tools to be able to succeed in competitive and collaborative negotiations
Handle difficult situations in negotiation and practice applying real-life situations
Course Content:
Part 1: Persuasive communication skills
Communication process – What is persuasive communication?
Understand yourself and communicate effectively with 4 types of personality
Communicate confidently

3V principle
Using the words – 5C principle

Listening skills

5 levels of listening
Active listening – LACE formula

Questioning skills

4 principles of asking questions
Funnel-shaped questioning techniques

Feedback skills: BOOST & SANDWICH techniques
Part 2: Negotiate with external and internal customers
Skills & preparation for persuasion & negotiation

Develop negotiating capacity effectively: Attitude – Knowledge – Skills
05 personal negotiating styles
05 elements of win-win thinking
Fix 10 common mistakes when negotiating

The importance of preparation before negotiation

Key elements to consider before negotiation
Identify goals using LIM, plan and predict the results
Assess partners using SWOT
06 gold notes in negotiations need to remember

How to negotiate effectively?

Using 6 psychological attacks to convince partners: Creating sympathy – Response – Social evidence – Commitment and consistency – Authority – Scarcity

Using strategy and tactics

9 steps to reach agreement in negotiations

Handling difficult situations in negotiation

How to negotiate with 5 groups of difficult customers
Speak less
Lack of concentration
Talk a lot
Experienced
Hesitant, less assertive

Negotiation strategies

Negotiate on the price
Approach to the courtesy
Underwater net
Submarine boat
Buy first – pay later
Good guys – bad guys
The course details:
Duration: 08 & 09 March 2021 
Platform: Offline at 3 to 4-star hotel
Language: Vietnamese
Trainer: TBC
Fee: 5,900,000 per participant
Please contact us 028 6285 6440 to register or fill out the form here 
———————————————
CTS offers a wide range of training courses at premium conference venues in Ho Chi Minh City. Insights from the course facilitator, as well as delegates from a wide range of companies and industries, make our public training courses a rich learning and networking experience.
If you prefer to check the course schedule, please visit this link.