Human resources is rightly judged to be the lifeblood of many businesses, and is seen by many as being fundamental to any company's success. This course will teach you to see people as assets of a company, it will show you how to improve their performance, and to use them to achieve competitive advantage.
The course will cover a wide range of topics, and are focused on bringing participants up to date with the latest thinking and research on key HR sectors.
Designed For:
This course is aimed at new and aspiring HR professionals, but may also be of interest to people responsible for people operations.
Learning Objectives:
Get an introduction to the practice of Human Resources, and develop the skills you need to become an HR professional.
Course Content:
People management vs HR Management
What is the similarity & the difference
What is people management:
4 groups divided by personality
4 groups divided by competence
Maslow needs hierarchy
Roles and Functions of HR
Main functions of HR Management
Roles of HR
Headcount Planning
Headcount Planning based on Business Goal
5 steps of Headcount Planning
Job Analysis
When we need to do Job Analysis
Who should participate to this exercise
Job description & Job specification
Recruitment
Difficulties & mistakes in recruitment
What is competence-based interview
Recruitment process
Interviewing skill
Policies (Salary, C&B)
Principles when writing HR policies
Job evaluation
How to build Co. Salary scale with grades & levels
Salary structure
Training and Development
Fundamental training & additional training
How to organize & run a training course successfully
Employment Relation
Organizational culture
Working rules
Rewards & discipline
Meet your Trainer: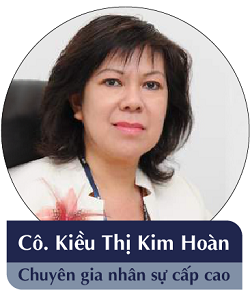 Ms. Kieu Thi Kim Hoan
Hoan has over 20 years of experience working in different industries: Insurance, Finance, Hospitality, and FMCG. She has held Senior Management and Senior Consultant positions of some companies such as: Chairperson of Amcham HR Committee, Spartonics Vietnam, VSIP, AIA, Delta Juice Vietnam, Deutsche Bank, Unicom, Navigos etc
She provides effective solutions to organisations by delivering tailored and professional training programmes.
Hoan is currently a full-time trainer and consultant, and has delivered business and management workshops for more than 50 multinational and Vietnamese companies in Vietnam.
She delivers her training in both Vietnamese and English languages and strives to provide high quality courses leading to long term excellence in the workplace. She takes a keen personal interest in the development of her students and as a result is valued by students and colleagues alike
Duration: 17, 18 & 19 March 2020 (2 days)
Location: 3-star Hotel
Language: Vietnamese
Trainer: Kieu Thi Kim Hoan
Fee: 7,200,000 per participant
Click HERE to register

———————————————
CTS offers a wide range of training courses at premium conference venues in Ho Chi Minh City. Insights from the course facilitator, as well as delegates from a wide range of companies and industries, make our public training courses a rich learning and networking experience.
If you prefer to check the courses schedule, please visit this link.