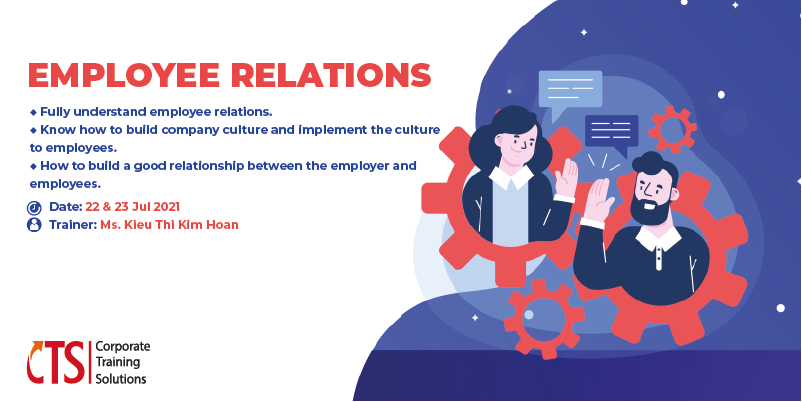 In every company, building a good relationship between employers and employees is always one of the most important tasks of the HR department to keep the organization running smoothly and stably. This labor relations course will provide HR managers with an overall picture of this relationship as well as how to manage and build it.
Designed for:
The Employee Relations course is one module apart of CTS Human Resource long-term programme which is specially designed for HR Directors / HR Managers / HR Staff.
Learning Objectives:
Fully understand employee relations.
Know how to build company culture and implement the culture to employees.
How to build a good relationship between the Employer and employees.
Course Content:
Part 1: Employee relations
Labour contract.
Company working rules
Discipline
Part 2: Company culture.
4 typical types of company culture.
Build and maintain company culture.

Vision.
Mission.
Slogan.
Core values.

How to communicate company culture to all staff.
Part 3: Staff activities.
Team building.
Employee satisfaction survey.
Internal communication channels.
Part 4: Staff rewards.
Long-term service awards
Ad-hoc bonus
The employee of the month/year
Reward ideas
Meet your trainer: Ms. Kieu Thi Kim Hoan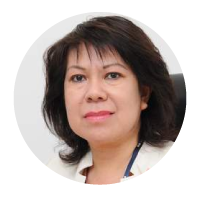 Ms. Hoan has over 25 years of experience in the Human Resource Management industry and has held senior management positions at multinational corporations in many different fields such as FV Hospital, Spartronics Vietnam, AIA Vietnam, Deutsche Bank, etc.
FV Hospital
HR Director
The American Chamber of Commerce in Vietnam (Amcham)
HR Consultant/Trainer – Chairperson of HR Committee
Spartonics Vietnam
HR Manager
AIA Vietnam
HR Manager
Delta Juice Vietnam
HR Director
Deutsche Bank Vietnam
Head of Personel Department
She joined lots of international training programs on human resource administration and management skills held by parent corporations/companies in the US and Asian countries…
Hoan is currently a full-time trainer and consultant and has delivered business and management workshops for more than 50 multinational and Vietnamese companies in Vietnam. She strives to provide high-quality courses leading to long term excellence in the workplace. She takes a keen personal interest in the development of her students and as a result, is valued by students and colleagues alike.
The course details:
Duration: 22 & 23 Jul 2021 (2 days)
Location: TBC
Language: Vietnamese
Trainer: Ms. Kieu Thi Kim Hoan
Fee: 3,900,000 per participant (Include all the fees: material, trainer fee, lunch, venue. no extra fee)
Please contact us 028 6285 6440 to register or fill out the form below
———————————————
CTS offers a wide range of training courses at premium conference venues in Ho Chi Minh City. Insights from the course facilitator, as well as delegates from a wide range of companies and industries, make our public training courses a rich learning and networking experience.
If you prefer to check the course schedule, please visit this link.