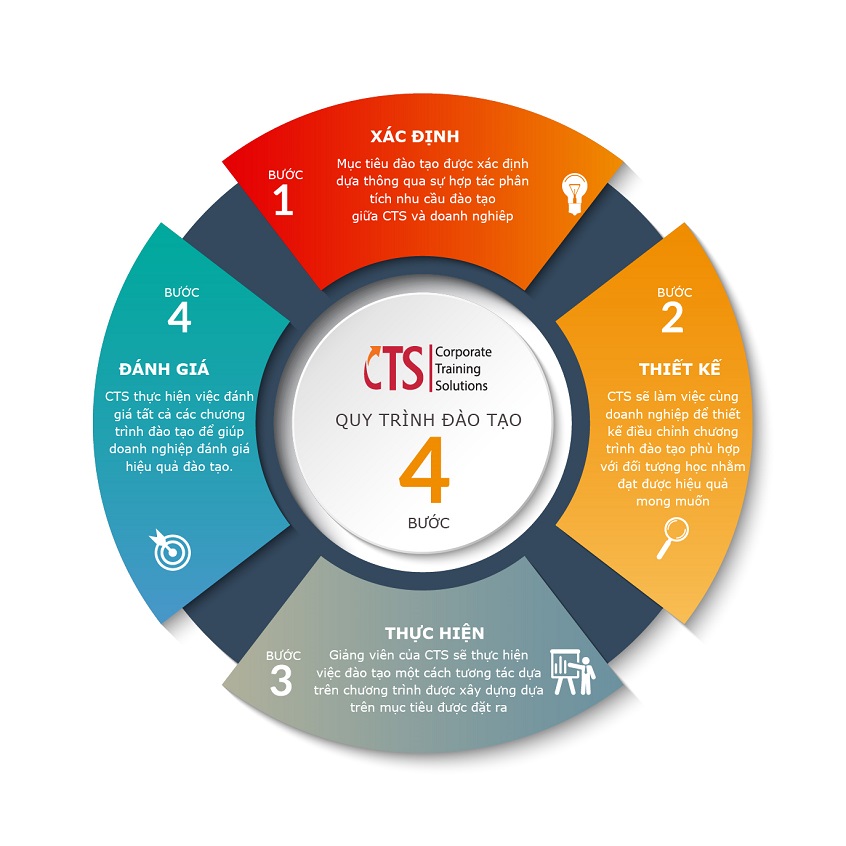 STEP 1: DETERMINATE TRAINING NEEDS
Training Needs Analysis (TNA). Your company's training goals are determined through a collaborative meeting between CTS and customers. From the information collected, CTS will synthesize and work directly with the company to conduct a training needs assessment, identify the necessary skills and highlight areas for development.
STEP 2: DESIGN THE PROGRAM
CTS will work with customers to develop a program that suits their needs. CTS will design realistic situations and activities to meet the specific expectations of students and companies. CTS instructors will conduct highly interactive courses that are closely related to the company's field and industry. We will prioritize the selection of lecturers suitable for the learning environment at the company and the learning method will be flexible from traditional to modern.
STEP 3: IMPLEMENTATION OF THE PROGRAM
A diverse mix of small and large group activities, real-life case studies, role-playing practice and lectures will be presented by one of our dynamic, experienced and professional instructors. You can count on a perfect training program for your students and at the same time achieve important company goals.
STEP 4: REVIEW
CTS conducts evaluations of all training programs to provide clients with objective and valuable feedback on program effectiveness. This process is carried out to evaluate and determine the trainee's improvement after the training is over.
• Post-course survey (trainers, content, methods, …)
• Personal action plan
• Exercises, assessment after the course