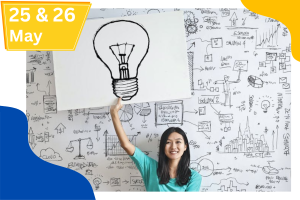 Think of a problem or challenge you had to solve at work recently. How did you approach it? Did you find yourself overwhelmed with the number of possible solutions? Were you unsure how to even start? Design thinking can help.
Design thinking is a five-step human-centered process for creative problem solving and has been used by organizations around the world to solve knotty problems. It is all about understanding your user's needs and solving the right problem. By using this human-centered design approach, you can develop products and services that truly help your user.
This course is meant to serve as an introduction to the principles of design thinking and touches on ways you can implement it in your workplace. The material is best suited for students who are new to design thinking or want a refresher on the core concepts. Luckily, design thinking can be applied to almost any field; no matter what your profession, design thinking can help you discover and implement the best solutions to problems you encounter.
Designed For:
This course is designed for any business leaders, professionals, managers or individual contributors wishing to gain practical know-how on the principles, process and tools of Design Thinking.
Learning Objectives:
Develop a mindset for design thinking and innovation
Apply the design thinking methodology to your own work
Use these new tools and techniques for design thinking
Understand the mindset of a design thinker
Apply the Design Thinking framework as a structured process to solve problems
Learn techniques to generate breakthrough ideas and co-create an improved customer experience journey
Improve personal effectiveness by becoming a more empathetic service provider
Course Content:
Introduction to Design Thinking

Understanding design and design thinking
Traditional thinking versus design thinking
Three lenses of human-centred design: Desirability, feasibility, and viability
Appreciate the benefits and importance of Design Thinking
How design thinking can improve our innovative ability and personal effectiveness
Recognize qualities and skills of great Design Thinkers of today's world
Innovation challenges – Real-Win-Worth framework
5 stages of Design Thinking

EMPATHIZE: Understanding the Customers

To gain an understanding of the experience, situation and emotion of the user for whom you are designing through observation, engagement and immersion techniques
Learn how to apply framework and method:

Create user portraits – Canvas model
Evaluate user portraits – AEIOU method
Empathy map
Stakeholder map
Hook framework
Create future users

DEFINE: Framing the Opportunity

To process and synthesize the findings in order to form a user Point of View (POV) that you will address by identifying the user, his/her needs and insights gathered
Learn how to apply tools:

POV
360 Degree Perspective
9 Window Tool
Daisy map

IDEATE: Exploring Ideas & Solutions

To focus on idea generation, translate problems into solutions, and explore a wide variety and large quantity of ideas that go beyond the obvious solutions to a problem
Divergent and convergent ideation methods
Generate depth when searching for ideas
How to structure and select ideas
Learn how to apply ideation techniques and tools:

Brainstorming
Reframe techniques
Word generation
Picture association
SCAMPER

Learn how to apply ideation tools:

PROTOTYPE: Building & Visualizing Ideas & Solutions

To build to think – A simple, cheap and fast way to shape ideas so you can experience and interact with them
Compare the benefits and suitability of several tools:

Sketch
Wire-frame
Chart
Storyboards
Business model
Service blueprinting
Role-playing
Minimum viable product (MVP)

Organize a prototyping workshop

TEST: Reviewing & DecidingSolutions

To ask for feedback on your prototypes, so as to learn about your user, reframe your POV and refine your prototype
TEST process
Learn how to apply TEST tools
Feedback-capture grid
A/B testing with prototype
Experiment grid
Date: 25 & 26 May 2023
Location: 3 to 4-star hotel
Language: Vietnamese
Trainer: TBC
Fee: 5,900,000 per participant (Include all the fees: material, trainer fee, lunch, venue. no extra fee)
Please contact us 028 6285 6440 to register or fill out the form here